This was my second ski trip to the Alps on winter of 2022. On the previous year 2021 the Covid pandemic prevented travel to the Alps, ski resorts were either completely closed or not accepting non-locals.
I have arranged the Ericsson Finland Ski Club's traditional spring trip to the Alps on many winters. Unfortunately, the pandemic interrupted this fine tradition for two winters. We were going to go to Zillertal in March 2000, but just a few days before the planned departure we had to cancel. All Austrian ski resorts suddenly closed. Now two years later in March 2022 this trip finally took place.
Plan
I had basically planned this trip for 2 years, and the final high-level plan is on this page. On the trip there were 26 participants and more than half were friends and family. For the first time since our 2014 trip to Ischgl our entire core family – me, Minna and our 4 children- were together skiing in the Alps. Now all the children were adults and Camilla's boyfriend was also with us, so we were now 7. Me & Minna, Camilla & Roope, Julia, Matias, Daniel.
I had rented a minibus for our gang and got a 9 seater MB Vito. This was just big enough us, as transport of skis took two seat from the 2 rear rows.
My group decided to buy the ski passes in advance from web. I even made instruction page for that.
Ski tracks
See the separate post about ski tracking details.
2022-03-12 Zillertal Sat, arrival
Early on Saturday 12.3.2022 we flew from Helsinki to the Munich airport on Finnair. Then got the rental car, stopped at Raststätte Irchenberg for lunch and buy the vignette to Austria. We arrived to the village of Stumm in Zillertal at 3 PM, where Jim welcomed us and our apartments were ready. Unpacked the car and settled in.
Then some chores. First we left some of our skis for overnight service at the local ski shop. Then we drove to Mayrhofen to rent touring skis for Camilla and buy groceries over the weekend. Here supermarkets close already at 6 PM and are closed on Sunday. In Finland most shops are open even on Sundays and bigger supermarkets are open 24/7.
We made dinner at the apartment and went to sleep early as the wake up was 7 AM to go skiing when lifts open.
2022-03-13 Zillertal Sun, Hochzillertal
Our first ski day was sunny and snow was perfect. We woke up early and drove straight to our nearby ski area, but picking up the serviced skis on the way there. We parked at the garage of the valley station in Kaltenbach. Then up with gondola and we skied first the south side runs, on the ski area map the left side. Then a short break at Cristallhutte terrace, where the view is simply amazing.
After the break we headed to Hochfugen and had lunch at top of bergstation Pfaffenbugel, the 8er Alm sunny terrace. Then back and skied onece more down to Hochfugen. Then late in the afternoon up to Wimbachkopf. Some of the group were done, but me and the boys continued to the bitter end until upper lifts closed. The we had a small drinking break at Firnhutte, when sun was setting behind the mountains. Then me and boys skied down to the valley. The run down to valley was quite a challenge and alsog the way se saw 5 accidents, skiers badly hurt to be carted away. It was a great day and snow was perfect powder, except on the route down to valley.
Photos: https://photos.leiman.fi/p896415083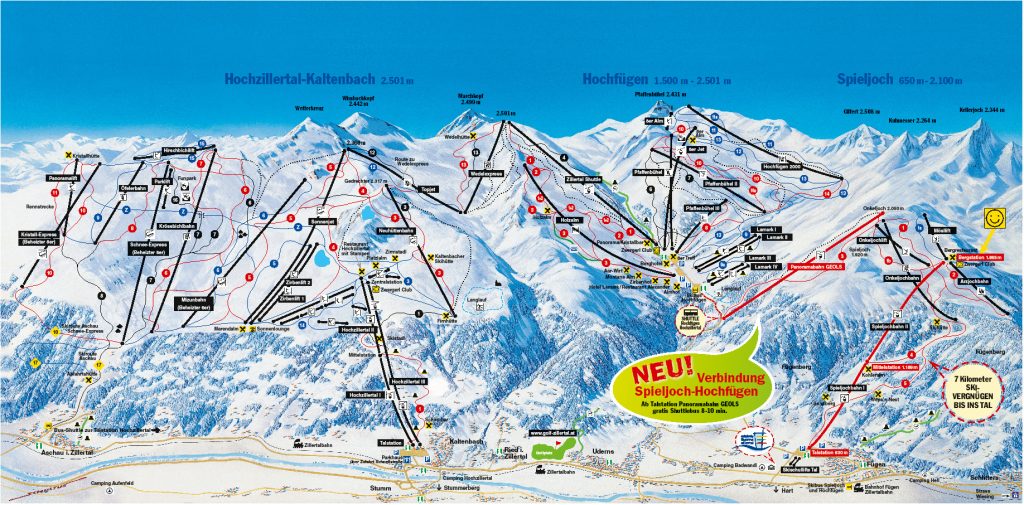 2022-03-14 Zillertal Mon, Hintertux
Our 2nd ski day we decided to go the glacier of Hintertux. The weather forecast predicted that this would be the last certain day of the week to have blue sky and full sunshine. The views from the top at 3200 meters are something not to miss, so a must do. Camilla and Roope decided to do a back-country adventure with a ski guide.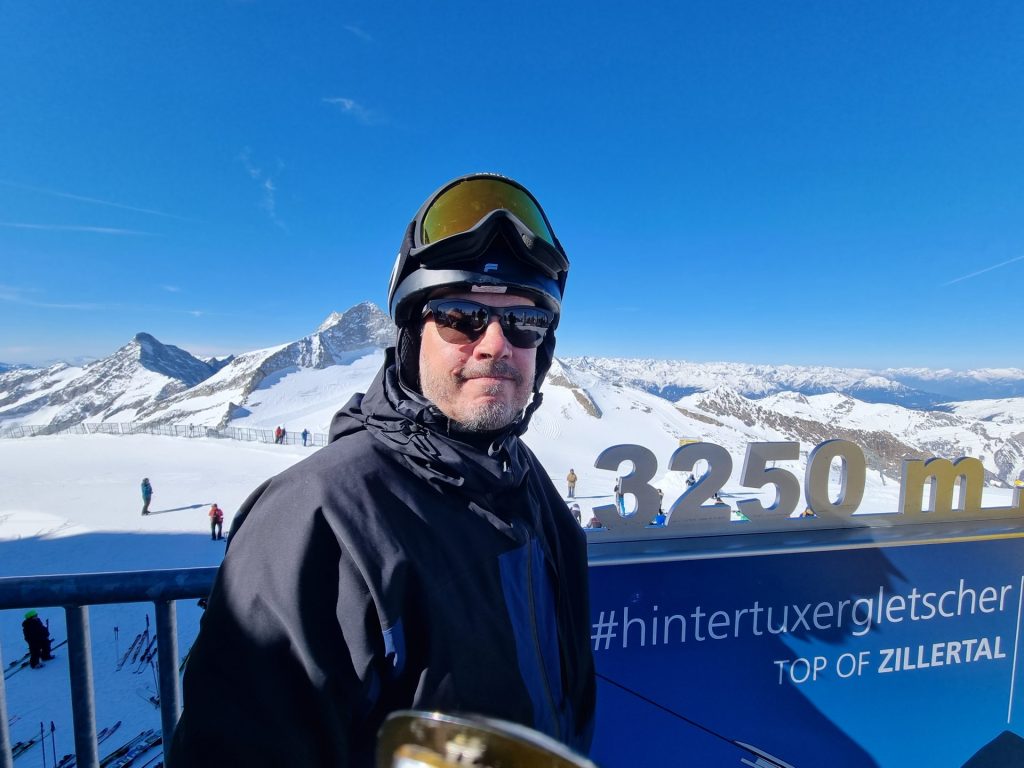 The views were amazing as always and it was a perfect sunny day, the snow as good as it gets. We enjoyed a lunch on the sunny terrace of the Tuxer Fernhaus. At the end of the day me and the boys skied all the way down to the valley, the girls too gondolas down. The route to valley was much better than at Kaltenbach, you just had to look out for the few patches where snow had melted away.
Photos: https://photos.leiman.fi/p635291196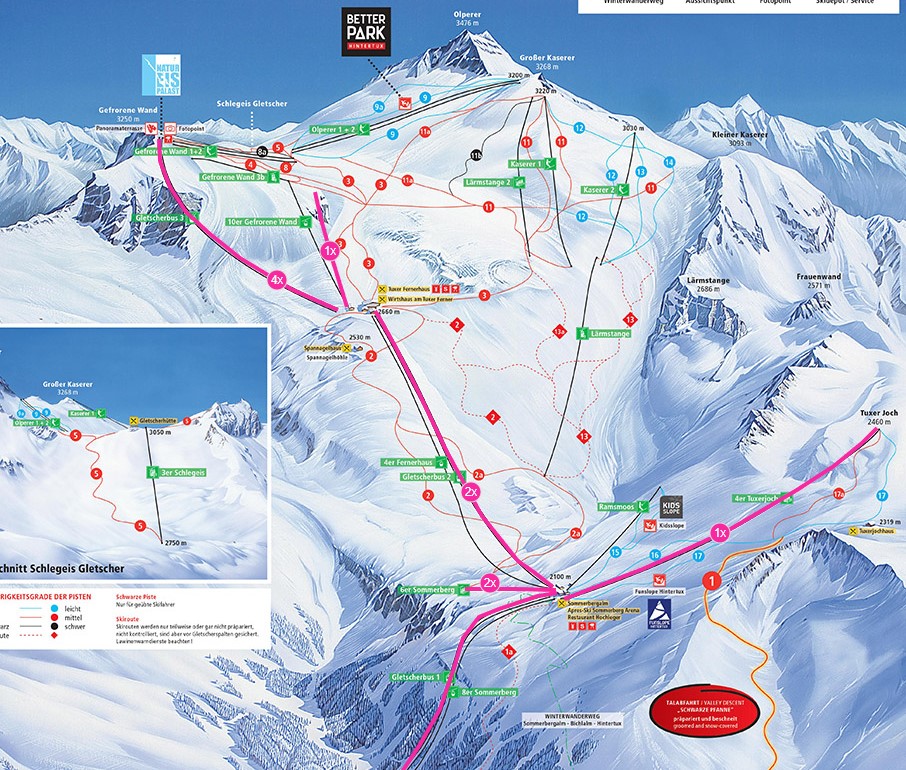 2022-03-15 Zillertal Tue, Zillertal Arena
Our 3rd ski day we drove the 10 min up to valley station of Rosenalm Bahn gondola, and skied at the Zillertal Arena. This was a cloudy day and a bit warm too, so in the afternoon snow was getting slushy at lower elevations. We spent most of the morning skiing the Zell side's red runs that were in perfect condition. Then we headed to the Gerlos side for the afternoon. Stopped for a break at Arena Center, then the black run down to lifts going up to Köngisleitenspitze. Had a lunch inside the Larmbach Alm. Then it was already so late that we had to start going back towards Zell and could not explore the area any further. By the time we got to Zell side, the girls were done, and took the gondola down. Me and boys continued a few runs until the lifts started to close. Then skied down to valley. It was probably the last day the valley run was open as snow on the last parts was running out.
2022-03-15 GuatzEssen
On the ground level of our building there was a famous vegetarian/vegan gourmet restaurant Guat z' Essen. The chef was son in law of our host Jim. Most the group had a dinner there. It was really amazing.
Photos: https://photos.leiman.fi/p745471692

2022-03-16 Zillertal Wed, Mayrhofen
Our 4th ski day we skied at Mayrhofen area. We drove the car to the Horbergbahn and took the gondola up. This was also a bit cloudy day and snow was getting really slushy. We skied first the Horberg side runs, then to the Penken side and of course the Harakiri run. The Harakiri run is advertised as really steep, but this is a lot of exaggeration as even in Zillertal you can in realty find many runs that are steeper and more demanding. We had a short break at Penkenalm, then headed to RTastkogel side and took the 150ex tux lift up. Then a luch at Lämmerbichl, which to our surprise did not accept credit cards, cash only. We generally do not carry much cash, and in Finland I have not use cash anywhere for many years.
Then I wanted to see the Eggalm side. Minna did not like this, as the very long run from top of Eggalm down to the village of Tux had huge moguls and very slushy snow on it. It was 852 m vertical down and took us half an hour to ski. Then back to the Horberg and gondola down. Here the valley run was no longer open.
Photos: https://photos.leiman.fi/p883304303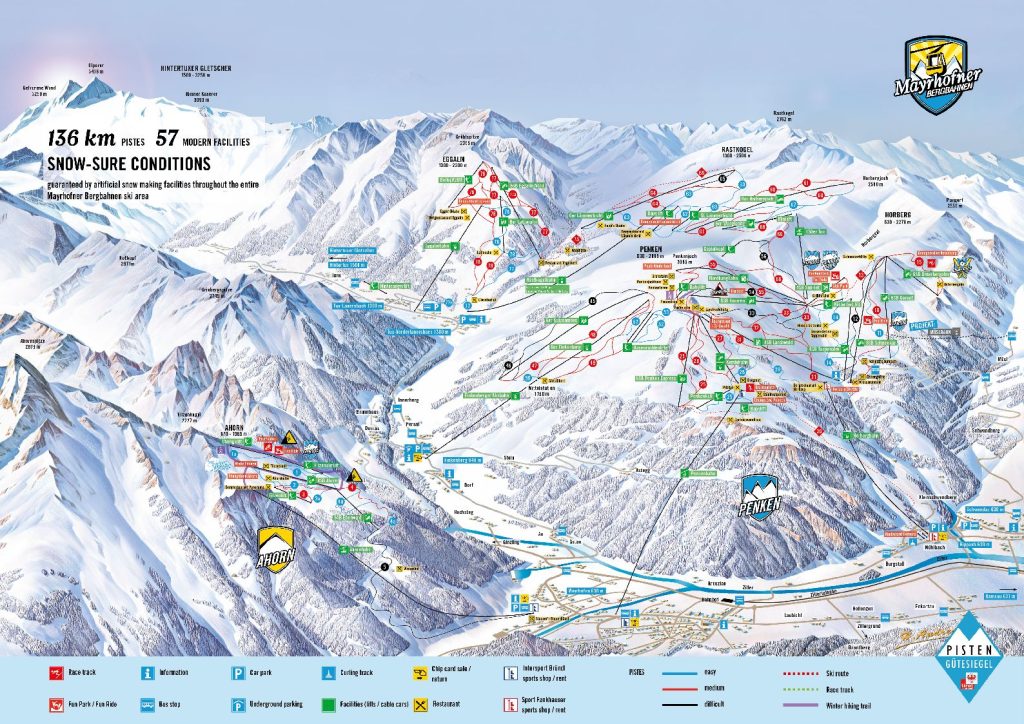 2022-03-17 Zillertal Thu, Hintertux
Our 5th ski day we went to Hintertux again. The reason being that it was getting quite warm and snow was getting slushy at altitudes below 2000 m. We also wanted to visit the "Ice Palace" cave inside the glacier under the top station of Gletcherbus 3 gondola. Lots of other people had made also the decision to go to Hintertux for the good snow, so it was unusually crowded.
We started the Ice Palace tour at 11:30 and it took over an hour. But was an amazing experience. After that a lunch and more skiing.
Photos: https://photos.leiman.fi/p1033437593
2022-03-17 Ice Palace at Hintertux
We took the tour to the "Ice Palace" cave inside the glacier under the top station of Gletcherbus 3 gondola. It is a very unusual system of caverns inside the glacier that has been formed by melting ice. This glacier is unusual that it is not moving presently. Most glaciers move significant distance every year, but here the underlying rock has permafrost and therefore the ice is not moving. This has caused the cavern system to form and it is safe to go there. There is a small lake inside where you can do a short boat trip. It is even possible to do cave diving there.
Photos: https://photos.leiman.fi/p953666760
2022-03-18 Zillertal Fri, Zillertal Arena
Our 6th and final ski day skied at the Zillertal Arena for the 2nd time. There was a lot of discussion what area to ski on the last day, and the most of the group thought that Arena was the nicest of all, and we had not managed to ski all of it on previous visit on Tuesday. Now we headed straight to the Gerlos side and managed to get all the way to the Königsleiten mountain and see it all. We even skied the Plattenkogel that is at the farthest end of this area. Still we did not manage to ski all the lists and runs in the Arena area as it is so huge.
Overall it was a nice week skiing with some sunny days and a bit of cloudy ones too. The snow in March is getting quite slushy so February would be a safer for better snow, albeit also a colder choice.
Photos: https://photos.leiman.fi/p594301299
2022-03-19 Zillertal Sat, back home
At 9 AM we had to get out of the house. We had plenty of time to make it to our flight back home. There was a lot of wondering what to do on the way to the airport and we decided to try seeing the Neuschwanstein Castle. It was kind of almost on the way. And a bucket-list place to see. Sadly we discovered after 2 hours of driving that the castle truly was in a hard to reach place. On the map it looks like it just on the other side of the mountain range norhtof Inntal valley. Unfortunately that mountain range is over 2000 m tall, so you have to drive around it, and the north side is slow winding country roads. Havin ran out of time to get to Neuschwanstein, we had to abandon the plan and find something else. So then visiting Dachau concentration camp memorial site was the new plan, as that is very near the airport.

2022-03-19 Dachau
It is never an easy nor a comfortable experience to visit these Nazi era concentration camp memorial sites. But it is something we must do to remind us of the dark side of human history and to never forget.
Dachau concentration camp was opened already in 1933 north of Munich. It was the very first camp of its kind and served as a prototype for future camps to be built by the Nazis. Initially it held political prisoners, who were just ordinary German citizens. But starting from 1938 Kristallnacht also male jews were deported there and the network of concentration camps started to form.
The main camp was liberated by U.S. forces on 29 April 1945. There were 32,000 documented deaths at the camp, and thousands that are undocumented.
Photos: https://photos.leiman.fi/p950771582
Fiechtl
Our base was at the village of Stumm, at Fiechtl Apartments. From this village there is direct access to the Hochzillertal – Hochfügen ski area. By train, ski bus or car you can access Zillertal Arena, Mayrhofner Bergbahnen and Hintertuxer Gletscher.
We had reserved all the three apartments on this house for the week from Saturday 12th March to Saturday 19th March 2022. About half of the group stayed the entire week, then some were only from Sat to Wed, some from Wed to Sat.
All Photos
I did not bother to use a "real" camera on this trip. All 540 photos were taken with my cell phone Samsung S21, and I think mostly they are pretty good. The photos can be found from following gallery: