I arranged this ski trip to Meribel we did on the week 8 of 2010 for my and Minna's kids and Minna's friend Taina and her son. So in total we were a group of 8 with 5 kids.
I had been in this "Les 3 Vallees" area many times before, but it was now 10 years from my previous trip. The "Three Valleys" area consists of the following interconnected valleys that each on its own is a big ski area: Courchevel, Meribel, Val Thorens / Menuires. Together they form one of the largest ski areas in the world. In 2010 the "3 Vallees" was still without doubt the largest continuous skiable domain, but by 2020 many serious contenders have appeared and it is hard to say which is truly the biggest and by what metric. Nevertheless, this area is huge with its 183 lifts, 335 ski runs that have total length of 600 km – between altitudes of 600 m to 3230 m. In one week it is a hard goal to ski every run in this system. In my opinion this is in the top-10 list of the best ski areas in the world, but there are many other really good ones too.
"Les 3 Vallees" area is in higher side valleys above the town of Moutiers in the parenting greater Tarantaise Valley located in the Savoy region of France. The river Isere flows through this long and narrow Tarantaise valley and then passes the city of Albertville, which hosted the 1992 Winter Olympics. Going further up the Tarantaise Valley you find the ski areas of La Plagne above Aime, Les Arcs above Bourg St.Maurice, and finally at the end of the valley Tignes and Val d'Isere. You could say that this entire region is a hot spot for large ski resorts. The best way to reach this area for me is to fly to Geneva and then drive or take a bus from there. The drive from Geneva is about 3 hours and thanks to the 1992 Winter Olympics a good motorway has been built all the way to this valley that once was very remote and hard to reach.
I had managed to rent a big chalet "Cruet" from the village of Les Allues. Les Allues village is lower in the Meribel valley at 1100 meters. From this village we were able to take the Olympe gondola lift up to the starting point of the Meribel ski area. There was an off-piste route down to our village, which we tried once. For me it was skiable, but others hated it, especially Minna, so we usually took the lift down or a ski bus.
Meribel valley is in the center of the area, so it is a good starting point to explore the entire system, Courchevel to east, Val Thorens and Les Menuires to west. Meribel is also the oldest area here, established already in 1939 just before the war broke out. The newest area is Val Thorens, which was established 1972 and at 2300 m is the highest ski resort village in the Alps.
Pictures
https://photos.leiman.fi/2010-meribel
Ski area maps
The entire 3 Vallees panorama map from 2010. This is a very good presentation of the huge area.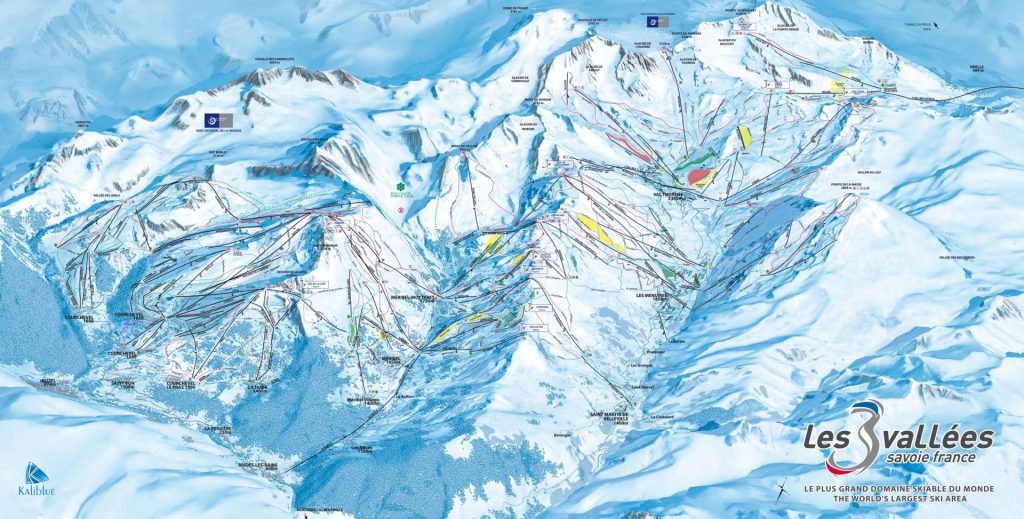 Meribel valley panorama map