As the chairman of the Ericsson Finland Ski Club I arranged the traditional "the trip" to the Alps for spring of 2018. The trip was from Saturday 17th to Wednesday 21st 2018.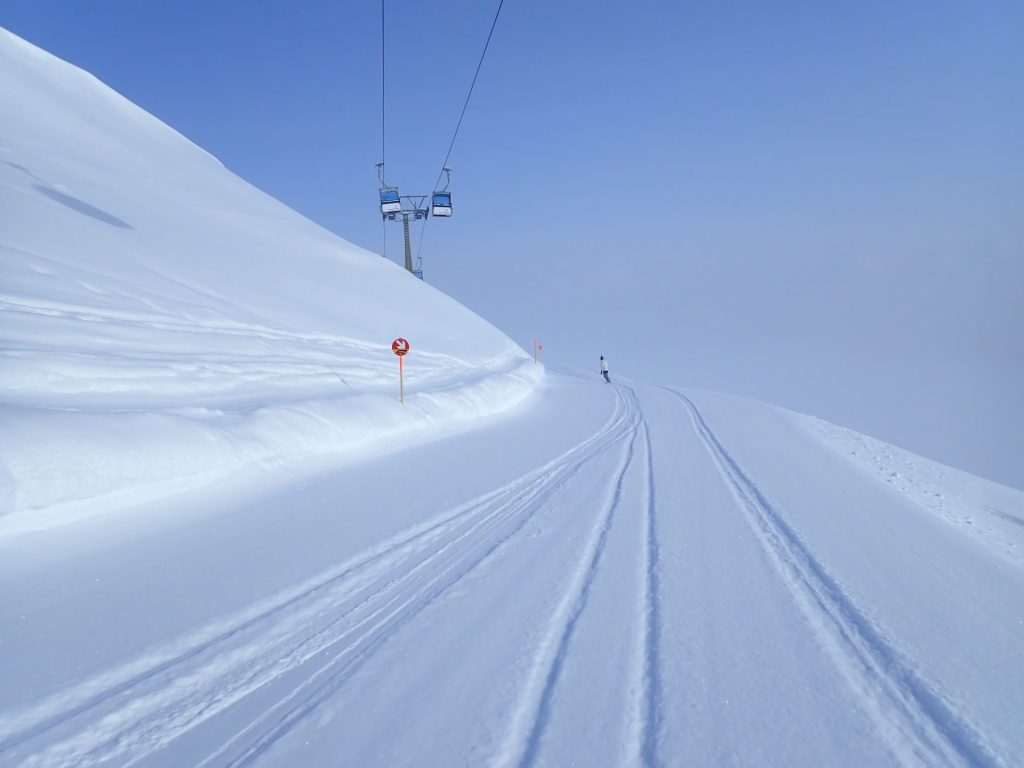 We usually try to arrange these trips as an extended weekend during 1st or 2nd weekend of March. The Ski Club (me) organizes the common accommodation, and it is up to the participants to arrange their own travel. Usually we are about 16-20 people. It is not very easy to find extended weekend accommodation for a bigger group. Usual practice at the Alpine resorts is to reserve accommodation for entire weeks, and the change day is Saturday, so anything that deviates form this Saturday-Saturday practice is complicated.
For this time I was lucky and was able to find a really a really nice accommodation in the village of Schruns which is part of the Silvretta-Montafon area, where I had never been before. I booked three big apartments from "Adler Alpen apartments" for 16 people. This place had just had major uplift renovation and was opening for the season 2017/18. It had a sauna, which we Finnish people really appreciate.
I managed to get 16 people to attend, including my daughter Camilla.
Most people took the Finnair direct flights from Helsinki to Munich, departure on Saturday 17.3. morning and return on Wednesday 21.3. evening. This gives 3 full days of skiing and possibly the morning of the departure day. Then we rented two 9 person minibuses, enough capacity to transport 16 people. The drive from Munich airport to Schruns is 280 km mostly autobahns A96 and A14 at low altitude and very few speed limits. The dive is usually less than 3 hours. For Austria you need to buy the autobahn vignette and attach it to windshield.
Overall the trip was very nice and everything went really well. We were kind of lucky to get fresh snow this late in the season, although this did mean a few cloudy days with poor visibility, but then there was a glorious sunny day with fresh power snow. The lift system was modern and no queues anywhere. Good selection of runs for everyone and it was certainly big enough for 3 days of skiing. I had spent a week in St. Anton in February 2018, so this was a perfect ending for ski season 2018.
budget (2018 prices)
flights: 236 €
accommodation: 350 € per person
ski pass 3 days: 141 €
car rental: 100 € per person (including fuel and vignette)
Skiing at Silveretta-Montafon region
Silveretta-Montafon region is famous for getting a lot of good snow, and there you can also find the biggest snow park of Austria, the NovaPark! You will for sure have good possibilities for all kinds of skiing: in the pistes, off the pistes, ski touring, and of course not forgetting the after-ski part! The lift pass includes access to 7 different local ski areas with a total of 101 ski lifts and 480 km of marked pistes between altitudes of 1200 to 2900 meters, all connected by free ski buses. In addition, you can get an extended lift pass giving access to nearby resorts of Galtür, Ischgl, Kappl and Samnaun. With pistes above 2500 metres, skiing and snowboarding is assured throughout the season.
We were staying in the biggest village of the area, the historical Schruns, where you can find lots of bars, restaurants, shops and so on. Schruns is famous for being the favourite ski resort of Ernest Hemingway – 100 years ago.
During this trip we only managed to ski two of the areas: the Hochjoch-Kapell and Nova-Valisera. The same ski pass can be used also at a few smaller areas accessible by ski bus: Gargellen, Golm, Brandnertal – but you would need to spend an entire week in Schruns to have enough time to visit all those.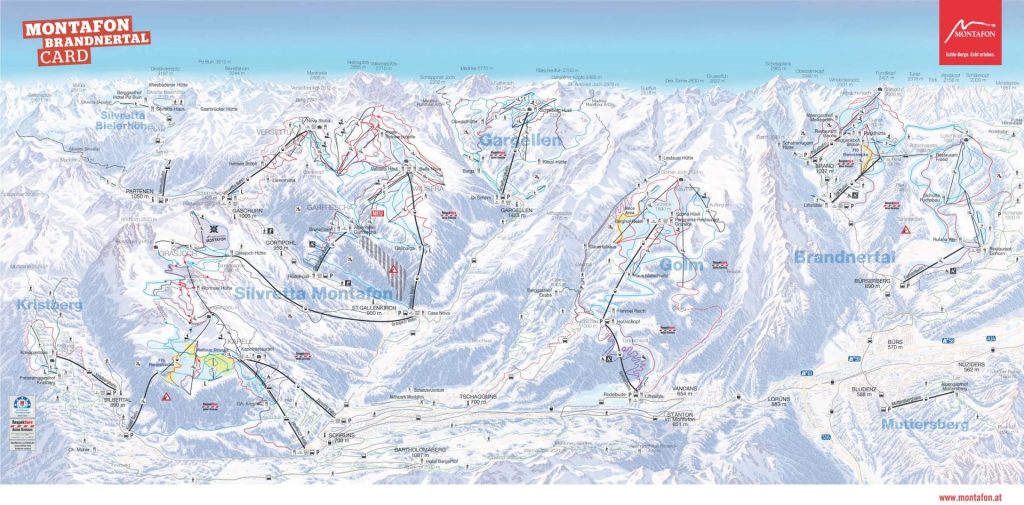 Here you can have a look at the up-to-date interactive panorama maps:
Some links:
The trip
Saturday
Early morning flight from Helsinki to Munich with Camilla and rest of the group. We arrived to Munich in schedule at noon. Then to get the rental cars and some snacks for the road. The drive to Schruns was easy and we stopped for a lunch break near the border to Austria. We arrived to Schruns around 4 PM, then settled to the apartments which looked nice. The shops were closing already at 6 PM and they would not be open on Sunday, so we had to hurry to buy food and drinks. Then had some dinner at the apartment and the group met a cosy bar in city centre.
Sunday
Early wake up and breakfast. Then we walked to the nearby bus station to take a ski bus to the Zamang Bahn, and bought ski passes from there. Then up with ski lifts to the peak of Sennigrat. It was a cloudy day with some light snowing. Not very good visibility but snow was really good. Skied the entire Kapell-Grasjoch-Hochjoch area. Then finished the day by skiing all the way down to the Schruns village and there was just enough snow to get on skis to the "Ur Monti" after-ski bar. Then walked back to our apartments. Now it was time for some relaxing sauna. And after that we made dinner at the apartment.
Monday
On Monday we decided to try the Nova-Valisera area and took a ski bus there to Valisera Bahn. It was actually a little bigger than Hochjoch area and I liked the runs there. This was also a cloudy day and some more snow coming, But here there were more forests so skiing was easier in this limited visibility. The day ended with a long run down to the valley at St. Gallenkirch village. Then some after ski drinks at Edelweiss Alm before taking bus back to Schruns. And then of course some sauna.
We had reserved a big table for the entire group from Gasthaus zum Kreuz for a fondue dinner together.
Tuesday
The last full day of skiing. Now we knew that it was going to be a mostly sunny day with lots of fresh powder. We headed on the first bus to Valisera area to the top of Valisera. There were very few people out there so we could ski unspoiled fresh powder all over the area without even having to go off-piste. It was a fantastic day. In the afternoon it was getting a bit cloudy again.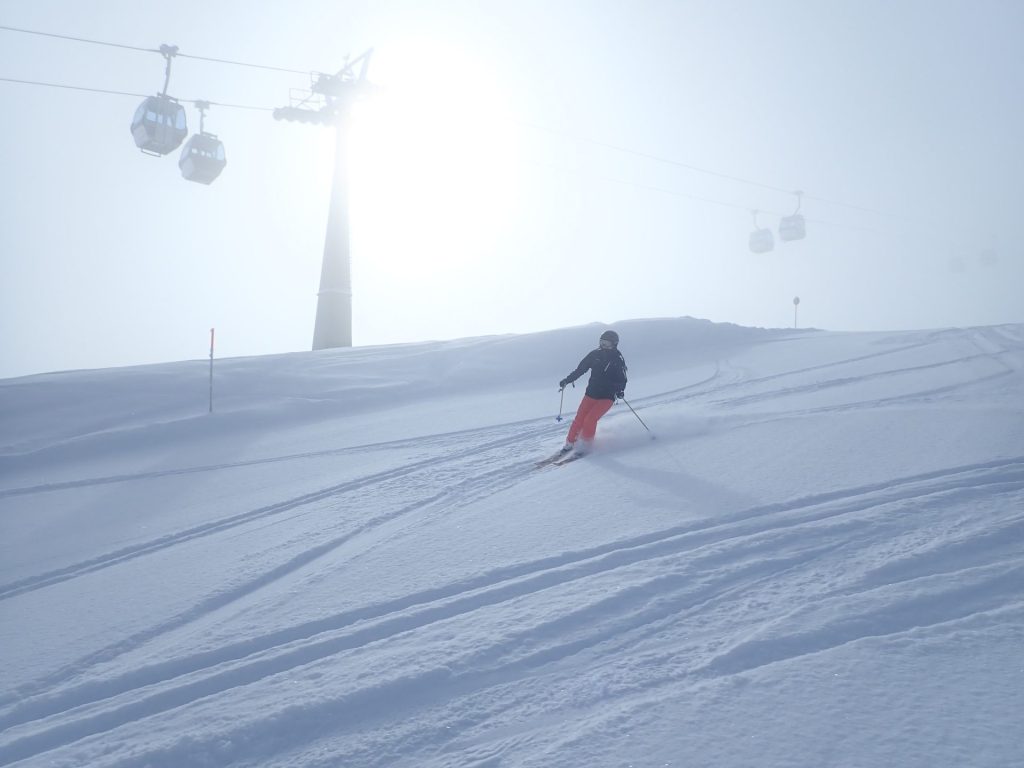 This evening we went to eat dinner at an Italian restaurant.
Wednesday
Last day of the trip. We had to check out from the apartments by 10 am. So we woke up early and packed the cars, and then went skiing for the morning. We skied at the nearby Kapell-Grasjoch-Hochjoch area until noon, then back to the cars and drove to Munich. There wasn't much traffic so we got back to the airport in good time, refuelled the cars and returned them. By 5 PM we were at check-in already and flight was due to depart at 18:40. At the airport we had some late lunch or early dinner before departure and then flight back to home.
Photos of the trip
Photos taken with both Olympus TG-5 and Huawei FRD-L19 cameras.
Saturday
Sunday
Monday
Tuesday
Wednesday