Dolomites 12-18 Feb 2022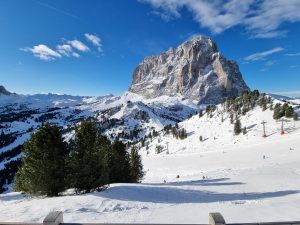 I usually make a ski trip to the Alps every winter, sometimes even two trips every winter. But due to the corona pandemic this tradition was interrupted for two years. My last ski trip to the Alps was just before the pandemic began in February 2020, to Sestriere with my wife Minna. There was another trip planned to Zillertal in March 2020, but that had to be cancelled just a few days before out planned departure. It is good that we did not go, as Austria was pretty much shut down the very next weekend.
I was really itching to get back to the Alps again, but 2021 all resorts in Alps remained closed. I attempted to reschedule the cancelled Zillertal trip to March 2021, but that was not to be. Then 2nd attempt is for March 2022, which I am pretty sure will finally take place.
But having been away from the Alps for 2 year, I just could not wait until March, so I decided to take an opportunity to do a "practice run" before the trip in March. The travel agency STS Alppimatkat was selling last remaining spots to package ski trips for the week of 12th to 19th February 2022. There was a spot to Val Gardena at Dolomites in Italy.
I had never been at the Dolomites before, so I could not resist, and so I bought the trip just few days before departure.
It was an all-inclusive package: flights, transfers, hotel, half-board and ski pass. Accommodation was at Hotel Solaia in the village of Wolkenstein in Selva di Val Gardena valley, which has direct access from hotel to Sella Ronda with ski in/out.
As always, I took a lot of photos, and they are all in this gallery:
LINK: https://photos.leiman.fi/2022-dolomites
All of the photos were taken with Samsung Galaxy S21 5G cell phone. The phone has 3 types of rear cameras and front camera for selfies. In my opinion the photos are pretty good. I was planning to use a "real" camera first, but it turned out that the S21 was good enough and I did not have to carry too much stuff on me.
Ski statistics
I also tracked my skiing with Sports Tracker app. And here are statistics for the entire week:
| | | | | | | | | | | | | | |
| --- | --- | --- | --- | --- | --- | --- | --- | --- | --- | --- | --- | --- | --- |
| date | duration | distance | avg. speed | downhill count | descent | max. Speed | downhill time | downhill distance | avg. Downhill speed | energy | lowest point | highest point | ascent |
| 12.2.2022 | 5:59 | 64,99 | 10,8 | 20 | 6940 | 84,9 | 1:04 | 33,88 | 31,6 | 3128 | 1437 | 2340 | 6588 |
| 13.2.2022 | 6:59 | 79,03 | 11,3 | 20 | 8328 | 79,1 | 1:23 | 43,33 | 31 | 3651 | 1391 | 3232 | 8395 |
| 14.2.2022 | 8:20 | 97,96 | 11,7 | 32 | 9955 | 115 | 1:36 | 50,18 | 31,1 | 4355 | 1345 | 2450 | 10151 |
| 15.2.2022 | 8:50 | 102,8 | 11,6 | 28 | 11332 | 79 | 2:03 | 54,65 | 26,6 | 4612 | 1280 | 2566 | 11490 |
| 16.2.2022 | 8:14 | 78,48 | 9,5 | 21 | 8039 | 67 | 2:09 | 39,74 | 18,3 | 4301 | 1399 | 2529 | 8364 |
| 17.2.2022 | 8:54 | 90,91 | 10,2 | 23 | 9065 | 109,5 | 1:43 | 48,93 | 28,5 | 4645 | 1445 | 2456 | 9128 |
| 18.2.2022 | 8:24 | 97,32 | 11,6 | 22 | 10254 | 84 | 2:09 | 53,07 | 24,6 | 4391 | 1416 | 3239 | 10300 |
| | | | | | | | | | | | | | |
| sum | ###### | 611 | | 166 | 63913 | | ##### | 324 | | 29083 | | | 64416 |
| min | 5:59 | 65 | 10 | 20 | 6940 | 67 | 1:04 | 34 | 18 | 3128 | 1280 | 2340 | 6588 |
| max | 8:54 | 103 | 12 | 32 | 11332 | 115 | 2:09 | 55 | 32 | 4645 | 1445 | 3239 | 11490 |
| avg | 7:57 | 87 | 11 | 24 | 9130 | 88 | 1:43 | 46 | 27 | 4155 | 1388 | 2687 | 9202 |
Covid rules in February 2022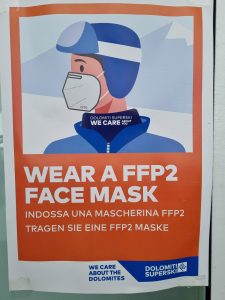 In Italy there were very strict rules and restriction in place until early February 2022. One reason why I decided to go on this trip was the change of rules so that PCR test to Italy was no longer needed. With a 3/3 vaccination EU Covid certificate, also called 3G Green Pass, you could enter Italy and go to anywhere.
The ski pass system at the Dolomiti Superski system required that every morning you register your Green Pass with an Dolomiti Superski APP to your ski pass. Only by doing this you were allowed to enter the lift system. The ski passes are read remotely by electronic gates, and without the Green Pass daily registration your entry is denied at the gate.
You are required to wear a CE-marked FFP2 face mask in all crowded and enclosed spaces. These include the lift queues, and in practice all lifts. Also when entering restaurants or any buildings you are required to wear the mask. Only when eating or drinking at a table you may remove the mask.
I followed all rules strictly and avoided crowds, and managed to make the entire trip without getting infected.
Most restrictions were lifted by March 2022.
2022-02-12 1st Dolomiti ski day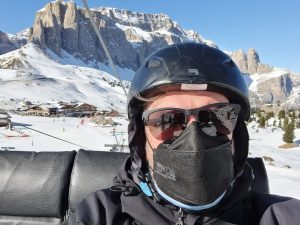 The flight from Helsinki to Innsbruck was brutally early, departure 5:50 AM. I had to wake up at 3 AM, then drove my car to the airport and parked it at P5 garage for the week. Not much crowds there at such an early hour. Flight arrived in time at 7 AM local time to Innsbruck.
The bus trip from the airport was just 2 hours to Wolkenstein over the Brenner Pass. We got our hotel rooms immediately, so I was able to go skiing for the afternoon. Already at noon I was on skis and heading up to the peaks. The travel agency had sold only 6 day passes that would start on Sunday, so I had to go to a ski pass counter and change it for a 7 day pass. Only 22 € extra to get that extra afternoon on it.
I decided to try if I could make the Sella Ronda Green direction (counter-clockwise) during the afternoon, and did succeed. I did 65 km around the Sella group peaks, out of which 34 km downhill. As Saturday is the "switch day" most people are leaving or arriving, and therefore there were very few people and almost no lift queues.
link: https://photos.leiman.fi/p805061458
Sports Tracker data:
https://www.sports-tracker.com/workout/ianleiman/6207eb43793989488c5276df
GPX route on Google Maps:
https://www.google.com/maps/d/edit?mid=1aeVjr6l8GXemjTIpVETp2YXafaLok8Pu&usp=sharing
2022-02-13 2nd Dolomiti ski day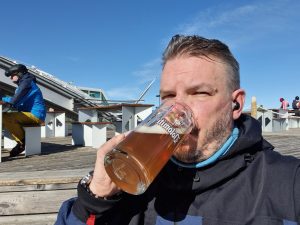 The 2nd day was as sunny as the first, so I decided to leave early and make the Sella Ronda Orange direction (clockwise). But I had made a serious error by registering my Green (Covid) Pass to the wrong ski pass, as I had swapped the 6 day pass to 7 day pass. This error was not possible to fix in the Dolomiti Superski App, so I had to queue to a Ski Pass counter to sort it out. Wasted one hour in the queue, but it only took a minute to fix the problem. So it was 10:30 when I finally got started. As it was such a gorgeous day, I decided to make a small detour from the Ronda to the Marmolada, the highest peak in the area at 3232 meters. The view from the top was amazing. From the peak there is a decent of 1558 meters vertical, 6 km continuous run, a rare treat. Because I had wasted so much time in the morning, I only managed to do one hour more skiing than on 1st day.
https://photos.leiman.fi/p936806026
Sports Tracker data:
https://www.sports-tracker.com/workout/ianleiman/62091d3857920a10128f07cc
GPX route on Google Maps:
https://www.google.com/maps/d/u/0/edit?mid=1pRznQNXQQ5-agDoh-eeU_8CATyj0mWmw&usp=sharing
2022-02-14 3rd Dolomiti ski day
I left my skis to full service the previous day after returning from the round, and the skis were going to be ready next morning at 8 AM. So I woke up early to pick the skis up. The skis were indeed in dire need of service. Now after service they felt like new again, edges super sharp and gliding like a dream.
On 3rd day no longer ski pass problems either, so I got a really early start. The day was going to be mostly sunny and some clouds arriving later in afternoon. I decided to do Sella Ronda Orange once again, but this time a detour to the Alta Badia area, which was really sunny. On the black run 17 down to La Villa, I managed to ski 115 km/h at fastest point. In the afternoon the clouds started to roll in from west and for the next day heavy snowfall was predicted.
https://photos.leiman.fi/p620844595
Sports Tracker data:
https://www.sports-tracker.com/workout/ianleiman/620a7de6ce382e69b6234108
GPX route on Google Maps:
https://www.google.com/maps/d/u/0/edit?mid=14N4Dn5gKPrZsVbfyC7s01Mi2SJIUTKtn&usp=sharing
2022-02-15 4th Dolomiti ski day
I woke up early to get most of the snowfall day. I had to buy new goggles on the way down to lift station, as my old goggles were really ancient, like 20 years old, and now I decided it was a good time get proper new ones. It was snowing hard all day and visibility was poor. So I decided to stay below tree line as much as possible. Now headed to the other side of the Val Gardena to St. Christina and then up to Seceda, and skied the 12 km long run down to Ortisei. There were hardly any people out on the slopes, so I could enjoy skiing knee deep fresh powder all by myself. Managed to cover over 100 km of total distance, 55 km downhill and 11332 meters vertical decent on this day. It was really great to ski Alpine deep powder again. 4600 kCal burned, so I was pretty hungry after this.
Sports Tracker data:
https://www.sports-tracker.com/workout/ianleiman/620bd4a2f2680924bf8e922a
GPX route on Google Maps:
https://www.google.com/maps/d/u/0/edit?mid=1x1giD26N84bWtEwGWE-5TxtleMTiOKxe&usp=sharing
2022-02-16 5th Dolomiti ski day
I found out that my ex sister-in-law Tarja was also in the valley with her family. They have been living in Luxembourg for many years, so we haven't seen for long time. We agreed to meet up at Seceda, ski and have lunch together. We dad lunch at Daniel's restaurant on a sunny terrace. Then some of their friends joined and soon we were a big group. Skiing with a group was nice change after having skied alone for 3 days. But skiing with a big group it was a lot slower too, so I only did 40 km of downhill on this day. It was a sunny day again, and fresh snow everywhere. You could still find deep powder at many places.
https://photos.leiman.fi/p821955837
Sports Tracker data:
https://www.sports-tracker.com/workout/ianleiman/620d1e47dcf303601a473d66
GPX route on Google Maps:
https://www.google.com/maps/d/u/0/edit?mid=1-agz6lorKmuVUZwRyLy-6R16OW7YD-8m&usp=sharing
2022-02-17 6th Dolomiti ski day
The penultimate skiing day. I decided to try to do Sella Ronda Green with some touring at Arabba maybe. On the way I skied down to Canazei just to see what it was like. The village was pretty, but the run down there was not so nice and access to ski lifts and Sella Ronda not so good. I would not recommend staying in Canazei.
The prediction was for strong winds at mountain peaks and that turned out to be true. At Sass Bece I found out that Sella Ronda had been closed. There were fences announcing that return lifts from Arabba were not operating, if you continued there was no coming back. The lift status tables were showing that the final pass back to Wolkenstein over Dantercepies at the remote end were still running, but I did not want to take the risk of getting stuck on the wrong side. So I decided to abort the Ronda and head back. But a lot of other people were doing the same, so there was a huge queue at Pradel-Rodella gondola. It took almost an hour to get back to Sella Pass area. Had lunch on sunny terrace and then went to see Monte Pana black run in sunshine. Getting back from there was a problem as the only returning chairlift Tramans had closed due to wind. Fortunately I found an off-piste trail to St.Christina. Then remains of the day at Piz Sella, Ciampinoi and Dantercepies. But it turned out to be a nice day despite the wind.
https://photos.leiman.fi/p656403792
Sports Tracker data:
https://www.sports-tracker.com/workout/ianleiman/620e7aaa6697f817ed7b2695
GPX route on Google Maps:
https://www.google.com/maps/d/edit?mid=13p5HZDIWgJGAxeB6z9sKNigs42aScLid&usp=sharing
2022-02-18 7th Dolomiti ski day
The very last day of the week. The weather prediction was for no winds, temperatures above freezing and sunny. Decided that I want to see the view from top of Marmolada one more time, as that is a view to die for. And I would attempt the Sella Ronda Orange route this time, trying to get to Marmolada as fast as I could. Also decided to ski a bit slower for the last day. I managed to get at bottom station of the Marmolada cable cars in less that 2 hours. On the way the runs were still freshly groomed with tough power snow. Then there was a 20 minute queue, as many other people had the same idea as me. There is a sequence of 3 cable cars taking you from 1440 m up to 3230 m. And then you need to climb long stairs in thin air with mask on to the panorama terrace at very top. From there you get 360 degree view of the Dolomites and can see mountain peaks 100 km away. The run down from there is almost 7 km long and you descend 1500 vertical meters. This time I skied slowly, stopped a few times to take photos and it took 19 minutes. Then a nice lunch at the sunny terrace of Rifugio Padon. Then heading back to my own valley. Stopped for a beer at Rifugio Salei and bumped to Tarja's group. From there we continued together all the way to down to St.Christina for drinks at Ruacia Apreski Snowbar. Then back towards my hotel for the last runs, first down from Ciampioi and one last time up to Dantercepies. It was a really good week of skiing in sunshine and some new powder snow.  
Total one week downhill distance skied was 324 km, and 64 km of vertical decent, 166 downhill runs. After this week my feet were done and in need of a few week recovery.
https://photos.leiman.fi/p670008849
Sports Tracker data:
https://www.sports-tracker.com/workout/ianleiman/620fc43763002a4555094e02
GPX route on Google Maps:
https://www.google.com/maps/d/u/0/edit?mid=1M_Io7CZt-VdDEVMxD70TjLnEtm52j3dV&usp=sharing
2022-02-19 fly home
Brutally early return flight. Wake up at 4 AM, and the bus picked us 4:30 from the hotel. Then 2 hour bus ride to Innsbruck airport. From Innsbruck a Finnair flight back home. I was back home by noon. In Finland it was totally cloudy and grey. I had pre-ordered a 10 € "breakfast combo", that contained in paper bag a bread, apple, and yogurt. Instant coffee would cost an extra 3 €, so I just had cold water that was free. I remember the days when on these flights you got a proper warm meal with all and any drinks, there was proper brewed coffee and that was all included to the fare.
Hotel Solaia
I stayed at Hotel Solaia in the village of Wolkenstein in Selva di Val Gardena valley. The hotel has a perfect location with ski in/out access. From the ski storage room you could walk to the blue run coming down from Dantercepies and going to village centre. From village you can walk either to the Ciampioni gondola lift station to go Sella Ronda counter-clockwise or towards St.Christina, or you can take the Costabella chair to access Dantercepies gondola to go Sella Ronda clockwise or the areas of Alta Badia.
Breakfast served at hotel was included as well as 3 course dinner served in Hotel Olympia next door. In the hotel there was an excellent spa with proper Finnish Sauna, and a swimming pool with amazing view towards Sassolungo peak.
The hotel was impeccably maintained, charmingly decorated in local style and super clean. The owner was very friendly, helpful and could speak many languages. In this village people speak their own Ladin language, and of course local Italian and German. Almost everyone can speak English too.
Probably there would have been nice after ski bars nearby, but I was so tiered after hard days of skiing, that I had to go sleeping straight from dinner. And I wanted to avoid Covid infection so stayed away from any crowds.
https://photos.leiman.fi/p624540892
Italian food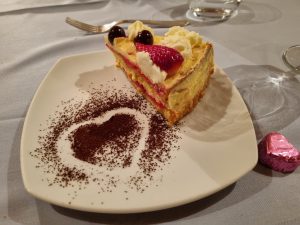 Generally, when in the Alps you find the best food and wines from Italy – and prices are reasonable even in very high end places. The food was simply delicious. I had my lunches in the mountain restaurants on their sunny terraces with amazing views, except on the snowfall day had to eat inside. Included in my package was a 3 course dinner served in Hotel Olympia next door. Or should I say 4 courses, as there was an excellent salad buffet to start with. Then a 1st main course usually a pasta with sauce, then 2nd main course of fish or meat. And finally, a dessert. You could choose your main courses a day before from 2 choices, where the 2nd choice apparently was always vegetarian.
https://photos.leiman.fi/p955886296
Ski area maps
The Dolomiti Superski area is so huge and spread out, that it is no longer possible to present it in an old-school panorama map in any useful way. But below is an attempt of one, which however is of not much other use but to just to give a rough idea of the system. There are panorama maps for each different ski area and valley, and there are 12 of them in total, but even those are hard to read. Note that only the valleys and ski areas connected by and to the Sella Ronda circuit can be reached by ski lifts and downhill skis within that system.
The best way is to to go skiing and figure out yourself. There is an App that you can use on your cell phone to get some directions.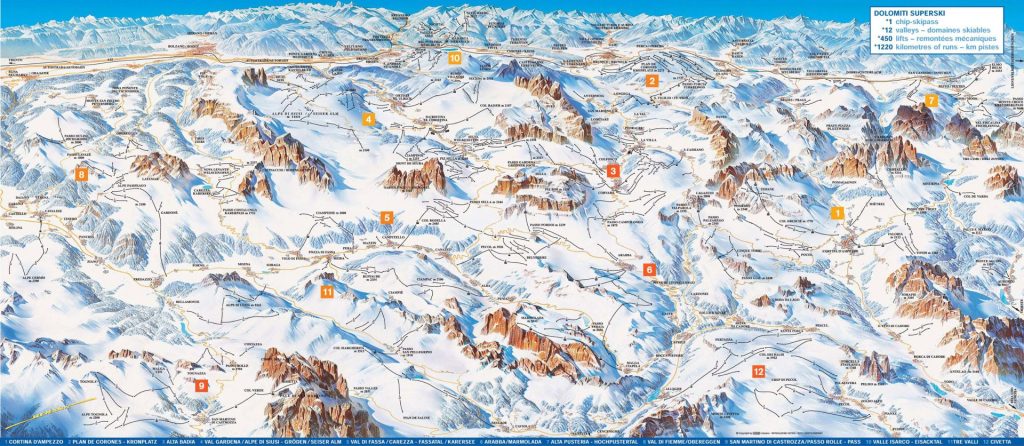 Sella Ronda
The Sella Ronda is a circuit of ski lifts and runs that go around the Sella Group of tall mountains. You can do the Sella Ronda to either direction: Orange to clockwise, and Green counter-clockwise. When doing the round you do about 20 ski lift ascents and ski down 20 runs, in total you cover a distance of 60 km, of which half you will be skiing. A fast skier can do a complete round in about 4 hours with a few quick breaks. All of the runs on the round are fairly easy, there are a lot of blue runs, and only a few reds. No black runs directly on the route, but with short detours you can find some black runs along the way too. Intermediate level skier should be able to do the round within one day, but you need to start early when lifts open at 8:30. In bad weather, mostly high wind, the Sella Ronda circuit is closed and you must stay in your own valley.
There are several valleys that are not connected to the Sella Ronda system directly and you would need to use a bus or car to reach those. The valleys and villages directly connected to the Sella Ronda are:
Val Gardena,

Selva Wolkenstein, main village

Plan de Gralba
Passo Sella
St. Christina
Ortisei
Alpe di Siusi (very far from the Ronda)

Alta Badia

Colfosco
Corvara, main village
La Villa
Badia
San Cassiano

Arabba, the main village

Passo Campolongo
Malga Ciapela, cable cars to Marmolada

Val di Fassa

Alba
Canazei
Campitello di Fassa
Pozza Di Fassa
Some of the villages that have some kind of ski connection to Sella Ronda are very far away from the main circuit and may not be practical choices if your intention is to ski the Ronda itself. The Wolkenstein village has by far the best access to everywhere, and has itself very good ski lifts and runs for all levels of skiers. Corvara would be an excellent choice for a beginner due to a wide choice of easy blue runs and wide sunny slopes.
The valleys NOT in the Sella Ronda circuit, and that are not connected to each other either are:
Cortina d'Ampezzo
Kronplatz
3 Zinnen Dolomites
Val di Fiemme
San Martino di Castozza
Gitsberg Jochtal
Alpe Lusia
Civetta
You can use the Dolomiti Superskipass in all of these valleys, but you need to use ground transport to travel between them.